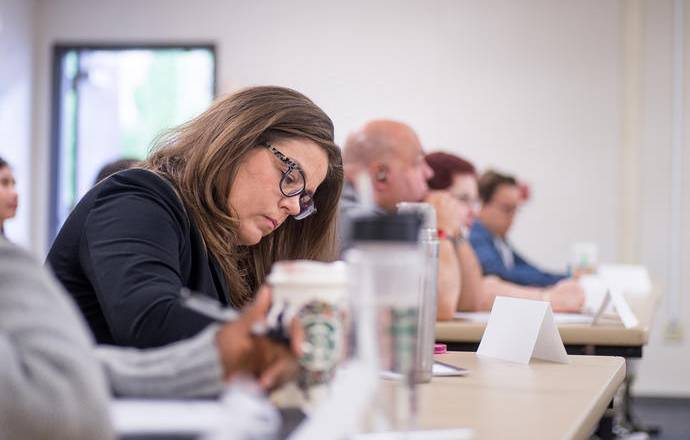 Business
Business Courses
Accountability | PROW NC064 | Learn the skills needed to truly manage your own destination and performance in the workplace by becoming proactive and accountable
Assertive Communication | PROW NC044 | Discover techniques to be an assertive communicator, acquire ways to receive and give feedback. Address business etiquette with professionalism and assertiveness. Identify strengths and growth areas.models and change lifecycle.
B2B and B2C Marketing | MKTW NC005 | This course focuses on the promotional aspect of marketing and the different communication techniques used to raise customer awareness and interest. Students will learn how to identify the mediums that will be most effective to a targeted market. Both business-to-consumer and business-to-business strategies will be covered. These techniques will help students succeed in various careers. (Formally called Creating Effective Communication in Promotional Marketing)
Best Practices in Customer Service | PROW NC050 | Apply strategies that retain your valuable customer base and earn repeat business. Topics include resolving complaints, managing verbal and nonverbal communication and steps for defusing angry customers.
Building High Performance Teams | PROW NC015 | Apply key team building skills needed in the workplace. Topics include stages of team development, team roles, supportive communication climate, meeting strategies, collaboration and critical problem solving.
Building Resilience in the Workplace | PROW NC085 | Our global economy & our 24/7 access to the internet & technology, work is a constant presence in our lives. With more hours put in, & more stress related to work & work life balance,workers need to have & develop skills, techniques & mindsets that not only help them better cope, but thrive in the work environment. Course focuses on why resilience is key to success & on examining the foundational components of resilience & how to incorporate them
Business Branding | MKTW NC002 A strong brand in business relationships requires streamlining marketing focus through creating recognizable global social media marketing. Understanding the tools of research to produce a universal brand via social media ignites a clime of safety for an effective business and customer relationship.
Business Writing in the Technology Age | PROW NC002 | Students develop effective and professional business writing skills for electronic and hard-copy communication using business tone, organization and formatting, word choice and persuasion
Championing Diversity in the Workplace | PROW NC028 | Practical exploration, impact and application techniques for equity in the workplace to increase one's awareness of sexual identities, lifestyle attitudes, beliefs, values, work styles and more.
Change is the New Constant | PROW NC017 | Develop and apply change management techniques based on contemporary change
Coaching Skills | PROW NC021 | Apply behavioral change models and coaching techniques to close the gap between actual and desired employee performance and motivation.
Creating A Life of Purpose for Workplace Success | PROW NC080 | Focuses on the integral role that purpose plays in our lives-both professionally & personally- how to discover, optimize, and align life purpose with employment for optimal health, happiness & success in the emerging "Purpose Economy." Combining concepts from brain science, several seminal books on purpose, leadership & the Japanese Ikigai model- we examine, define, & tie our life purpose to our day-to-day operations and interactions.
Critical Thinking, Problem Solving and Decision Making | PROW NC005 | Develop analytical thinking, decision making and problem-solving techniques. Apply judgment and insight to break problems into component parts and apply deductive reasoning
Difficult Conversations | PROW NC032 | Students develop techniques for difficult conversations based on intentions, optimal outcome and assumptions. Students craft and deliver scripts customized to the scenario and personality styles involved.
Digital and Mobile Marketing | MKTW NC003 | Connecting mobile marketing to your business creates innovative, efficient and exciting experiences between producers and consumers and is cost effective marketing. Engagement via mobile helps lead customers into emerging global markets. (formally Mobile Marketing)
Effectively Managing Workplace Stress| PROW NC083 One of the biggest individual & societal problems today: the high costs of stress. We define stress & the many ways it negatively affects our personal health & effectiveness as employees & leaders. How stress can cripple companies, orgs & communities. After taking a stress inventory, proactive approaches to build resilience & lessen exposure to stress. Learn & practice techniq which can help you more effective to handle inevitable stresses.
Emotional Intelligence |PROW NC013 | Explore EI competencies: self-awareness, social awareness, self-management and relationship management. Apply tools and techniques using the EI framework to optimize your professional performance and working relationships.
High Impact Presentations and Proposals for the Workplace | PROW NC067 | Apply advanced formatting, persuasion and delivery techniques to workplace situations. Get your ideas adopted, sell yourself in an interview, and organize with clarity
Increasing Productivity | PROW NC038 |Personal effectiveness at work is a result of a combination of factors which all impact each other
Innovation and Creativity | PROW NC039 | How to create and innovate culture and techniques to promote workplace creativity.
Leadership Skills | PROW NC006 |Take your leadership from good to great by exploring and applying the top ten skills that every leader must have.
Marketing Positioning | MKTW NC003 | Harnessing the position of products or companies in the mental mind map of a customer creates immediate recognition or purchases by target market customers. (formally Marketing Maps)
Maximize Trust Minimized Conflict | PROW NC084 | Focuses on the proactive approach of building trust & relationships at work & in your personal life as a means to minimize conflict & mitigate it once it occurs. Also how to handle yourself once in a conflict & how to restore trust & relationships after conflict has occurred. Conflict is inevitable & natural. Once we understand & practice the EI & comm. skills that contribute to positive relationship building, we are in a better position to succeed.
Motivating Yourself and Others | PROW NC014 |Individuals and leaders explore the key ingredients for strengthening workplace commitment, engagement, and career satisfaction. Apply reward and recognition strategies to increase engagement in the workplace.
Personality Styles and Difficult Relationships | PROW NC019 | Exploration of participants' own behaviors and personality styles, while learning to adapt one's behavior to be effective with other personality styles in a variety of work situations.
Process Improvement | PROW NC011| Process improvement assessment methods and techniques to increase efficiency, improve quality and increase employee satisfaction and motivation.
Professional Etiquette | PROW NC068 |Learn the behavior, communication, and appearance needed for the professionalism to thrive and survive in the workplace.
Project Management for non-project manager | PROW NC010 |Project management skills are important for all employees. Create an action plan applying the basic principles of project management to your workplace. Communicate with confidence
Promotional Marketing Tools | MKTW NC001 Engagement in successful marketing through the reaction and maintenance of product (tangible and intangible) brand awareness for organizational profitability.
Resolving Differences in the Workplace | PROW NC025 | Practice communication techniques to match the situation, personalities and outcomes desired for each stage of the conflict cycle. Assess strengths and limitations of your communication style.
Secrets of a Great Employee | PROW NC051 | Discover secrets that make you an irreplaceable employee. Fuel your spirit and recession proof yourself with a renewed appreciation for professional effectiveness, satisfaction, and success.
Successfully Managing and Developing People | PROW NC033 | Learn and apply the communication, delegation and motivational skills needed to be an effective manager or supervisor
Succession Planning for Continual Organizational Success | NC087 | Coming soon
Supervisory Skills | PROW NC012 | Learn the key tools for effective management and supervision. The course covers delegation, feedback, communicating with employees, motivation and management styles.
Teaching with Humanizing Tech I | PROW NC070 |Course examines why and how to "humanize" online learning as well as the electronic components of on-campus classes. Students are encouraged to step outside their comfort zones in a supportive, experimental learning environment, to create content with tools that infuse learning with their individual "presence." When students relate to an online instructor as something more than a subject matter expert & begin to conceive of themselves as part of a l
Teaching with Humanizing Technology II | PROW NC071 | A two-week course taught in Canvas that examines strategies to integrate learners' voices, engage them in the active construction of knowledge, foster emotional connection and provide students with a choice of authentic assessments. Provides students hands-on experience with emerging technologies.
The Art of Negotiating and Collaborating | PROW NC036 | Participants learn to enhance collaboration skills by building high-trust relationships to create mutually beneficial outcomes. Use re-framing, neutralize language, uncover interests, summarize agreement areas and leverage innovative solutions.
The Art and Science of Giving and Receiving Feedback | PROW NC086 | Feedback is critical to improving individual performance and organizational effectiveness. Sharing information on what can and needs to be improved helps optimize work processes and gets things done more efficiently. This class clearly outlines why the most successful organizations only exist in an atmosphere of open feedback and provides techniques and practical applications of best practices in giving and receiving feedback.
Thriving in a Multigenerational Workforce | PROW NC086 | With up to five different generations in the U.S. workforce, we must better understand how this impacts workplace dynamics and effectiveness. This course explores the differences among the generations and develops the tools needed to capitalize on the strengths that each generation brings to better collaborate across generations for greater gains.
Time Management | PROW NC003 | Participants explore time management strategies and tools for effectively managing expanding workloads, shifting priorities, and increasing demands. Practice prioritizing by differentiating "important" from "urgent" activities
Transitions Nuts and Bolts 1 PROW NC081 | Reconnected community living & working is the result of a multitude of factors that all work in tandem. Explore, identify, analyze & develop critical thinking regarding the factors involved in personally engaged community living. Knowledge into the creation of an individualized transitions strategy, or "plan," is applied. Learn to develop your social EI & reconnect to yourself & your communities in ways that are personally & professionally meaningful.
Workplace Communication Strategies | PROW NC004 | Participants optimize current communication skills. Students learn to differentiate content, emotions and intentions in a conversation Students illustrate congruent verbal and nonverbal messages tailored to the context, the personalities and desired outcomes.
Workplace Politics | PROW NC035 | Learn constructive political behavior to create more win-win situations, unblock barriers to change, create greater "buy-in" on key projects, develop cohesion and improve decision making.