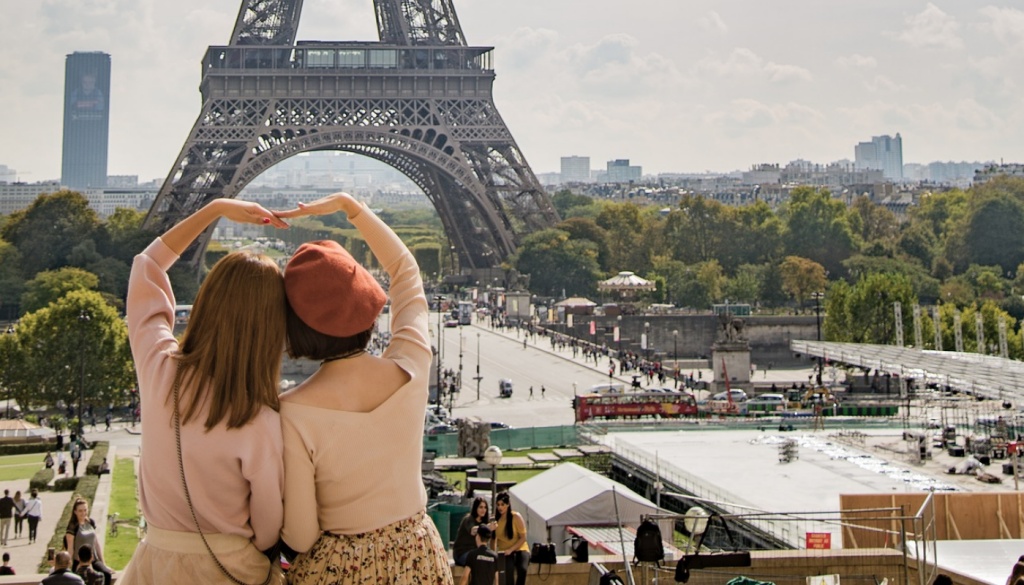 Study Abroad Events
Program information meetings, scholarship workshops and more!
SBCC Study Abroad offers free information meetings and workshops for everyone interested in the programs.
If you would like to receive information and reminders about specific program information meetings, please join the email list by completing the information in the pop-up box upon leaving this page. Should the box not pop up, you can also contact nwalther@pipeline.sbcc.edu and request to be manually added to any lists. You can unsubscribe from any list at any time and will only receive information regarding the specific topic you sign up for.
Several Information meetings will be held via Zoom. Please note that for in-person meetings anyone attending will need to follow SBCC's Covid Guidelines
INFORMATION MEETINGS & EVENTS
Film Studies and Communications in Tokyo, Japan - Summer 2023
No RSVP is required. Parents are welcome to attend. Please email or call Professor Mika Garard (mugarard@pipeline.sbcc.edu ) with questions about the information meetings.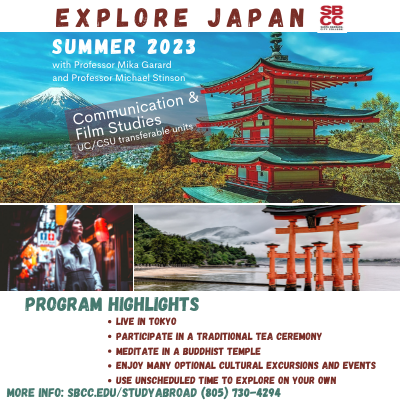 Virtual Meetings via Zoom:
When: Nov 22, 2022 03:00 PM Pacific Time (US and Canada)
Register in advance for this meeting:
https://sbcc.zoom.us/meeting/register/tJwrf-GhqT4rE9fRqsZkWwDTCamY0NpY0DcV

Surfing, Stretching & Relaxation, Spanish Grammar in Costa Rica Summer 2023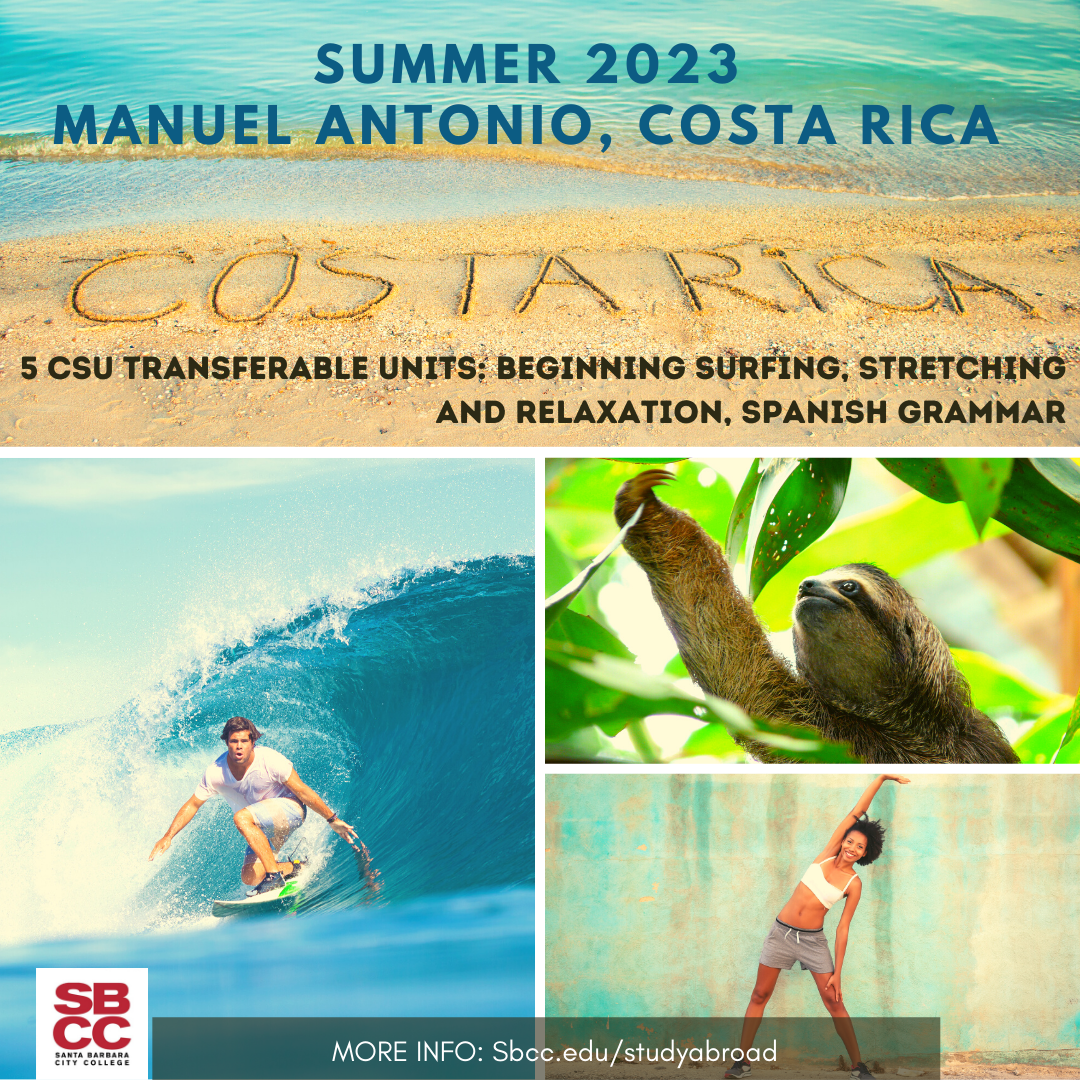 No RSVP is required. Parents are welcome to attend.
Information meetings will be schedule during the semesters leading up to the application deadline. Please confirm dates, times, locations or Zoom URL's with the program director prior to the event. Sally Saenger can be reached at sasaenger@pipeline.sbcc.edu

WHAT: Info Session on ZOOM
WHEN: November 14, 5:00pm

WHAT: Info Session on ZOOM
Marine Biology, Oceanography, Sociology, Anthropology in Bali, Indonesia, Fall 2023
Information meetings are scheduled in person or via Zoom. Contact the program directors to confirm meetings. Parents and friends are welcome to join.

Contact program directors Michelle Paddack at mjpaddack@sbcc.edu or Elizabeth Phillips at epphillips@pipeline.sbcc.edu for questions and to confirm the meetings
WHAT: Information Session via Zoom and in person at Luria Library L-137
WHEN: Monday, November 14, at 4:30pm
Join Zoom Meeting
https://sbcc.zoom.us/j/86858732318?pwd=TVBSWmJtT1UzcU9TN2ZmR0NXTE12dz09
Meeting ID: 868 5873 2318
Passcode: 697351
WHAT: Information Session via Zoom and in person at Luria Library L-137
When: Dec 8, 2022 02:30 PM Pacific Time (US and Canada)
Join Zoom Meeting
https://sbcc.zoom.us/j/89935709031?pwd=YUJDVWw3ZWpMVUNvWWJHWkcwOVovUT09

PAST EVENTS
Summer 2022 - Welcome Back Study Abroad Workshop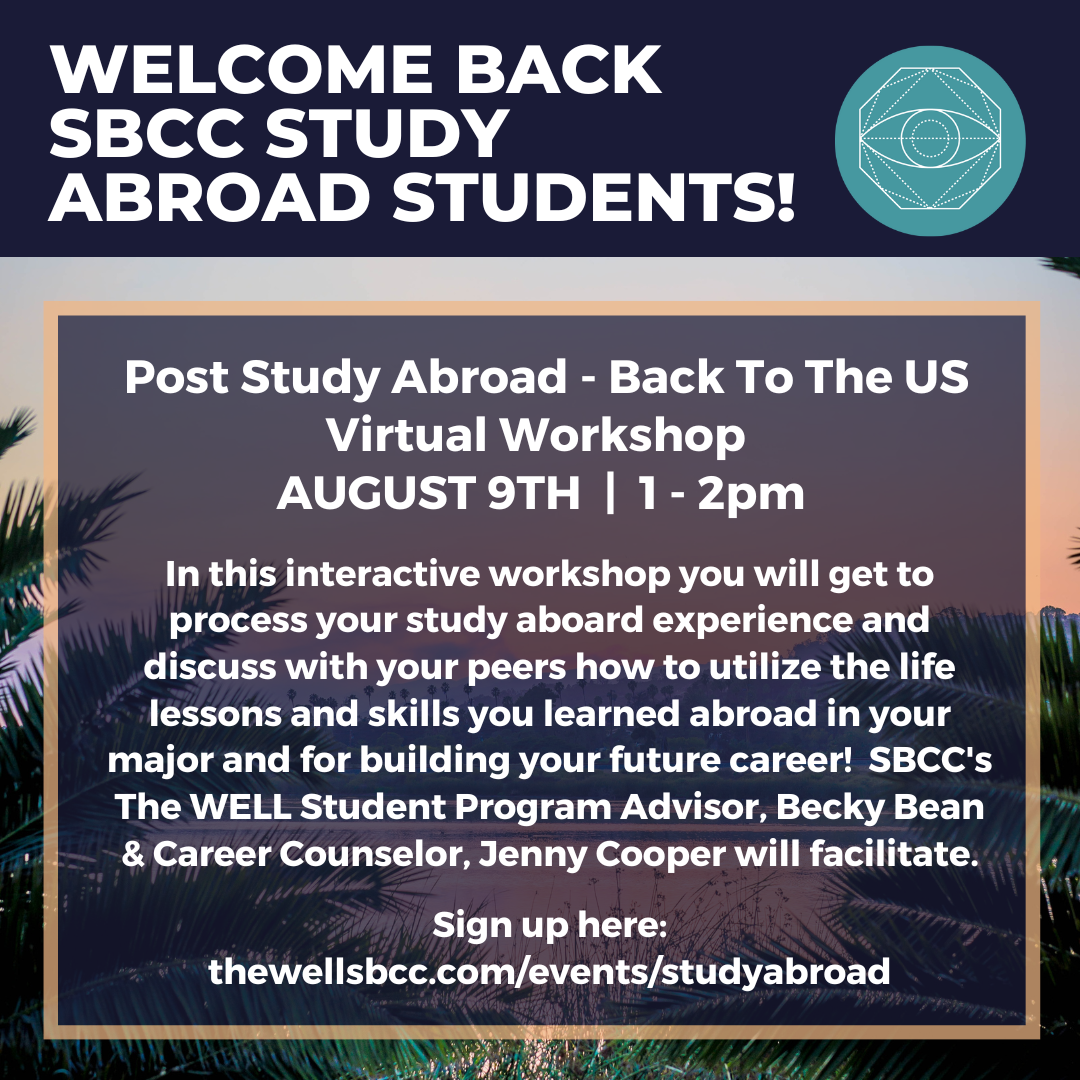 SBCC Study Abroad teamed up with program advisor Becky Bean from the Well and career counselor Jenny Cooper for this important event. Students from the summer program get to discuss their experience on the program and learn how they can utilize the life lessons and skills they learned abroad in their academic and career goals. Open to program participants only.
Summer 2023 - Costa Rica program director Instagram Live with Sally Saenger
Tuesday, September 13 at 12:30pm PST LIVE
SBCC instructor Sally Saenger traveled to Costa Rica this summer to explore all the fun areas for the upcoing summer program in Manuel Antonio, Costa Rica. Follow up on Instagram to join us live for a Q&A about the program @studyabroadsbcc
Germany, Austria, the Netherlands Summer 2022 Instagram Takeover by Rebekah Miller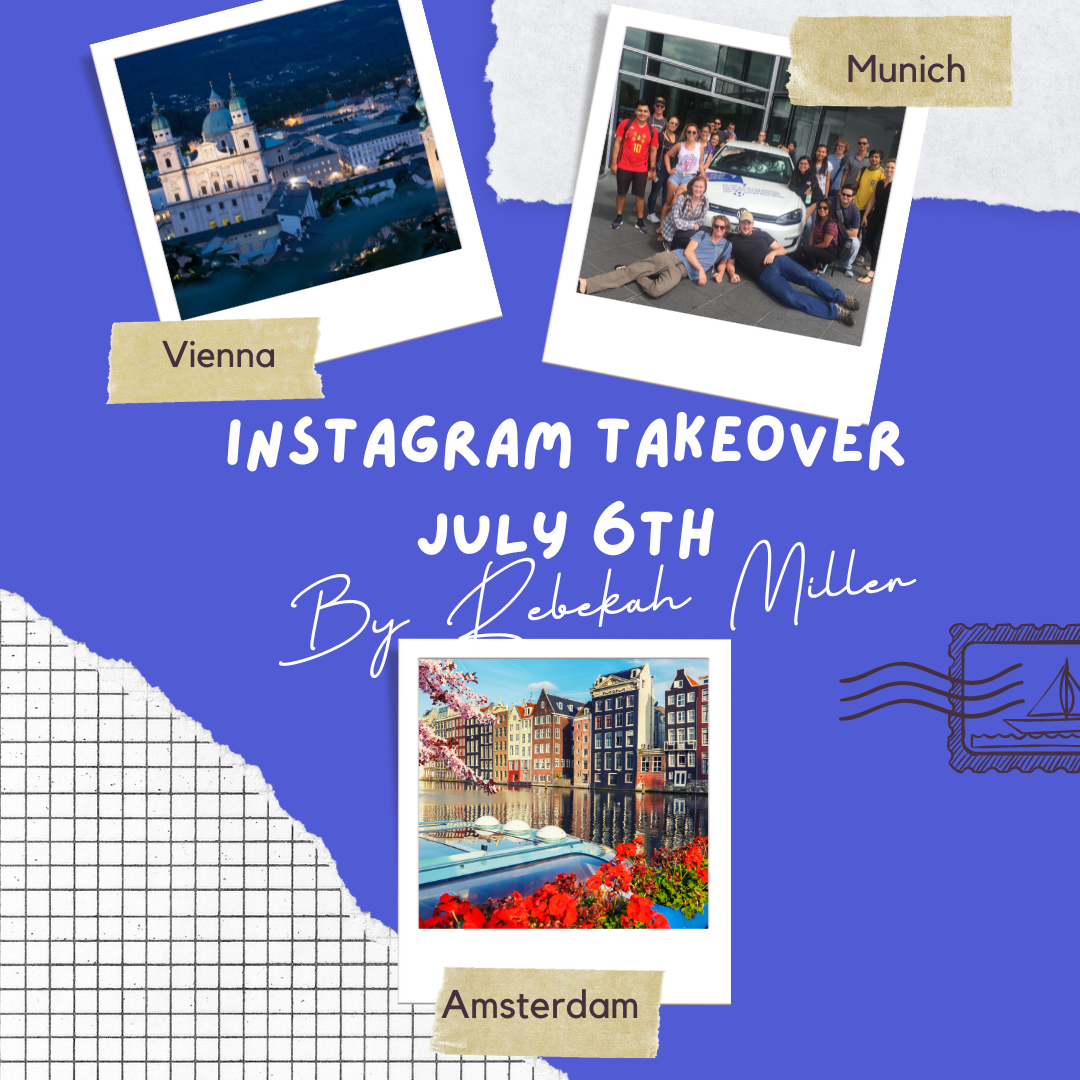 EOPS, CESJ, T
AP, Umoja, Study Abroad Event
Financial Resources to Study Abroad Workshop: Tips & Resources to pay for your trip abroad
with Camila Acosta (EOPS), Paula Messina (AIFS) and Nicole Walther (SBCC Study Abroad.) Studying abroad with SBCC is more tenable and affordable. Learn about the financial resources to study abroad available to you to make this enriching experience more accessible. If money has been one of the main reasons you have not considered studying abroad, this workshop will share abundant opportunities to be one of the students who can add unique skills learned while studying abroad on your resume or college application.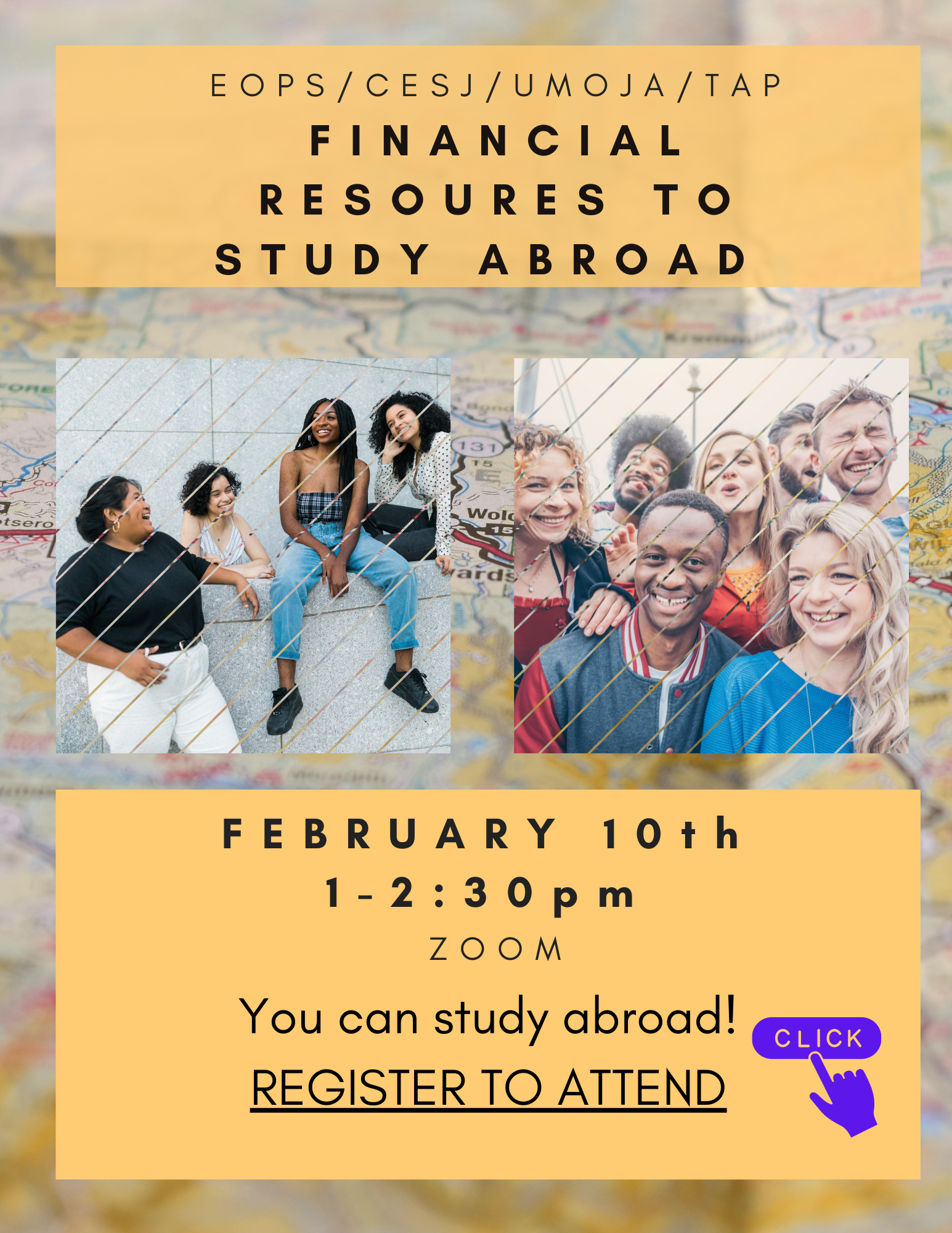 WHAT: Financial Resources and Study Abroad Workshop
WHEN?
WHERE?


Benjamin A. Gilman Application Workshop
Essay and Follow up Project Tips
with Paula Messina (AIFS)
The U.S. Department of State's Benjamin A. Gilman International Scholarship Program enables students of limited financial means to study or intern abroad, providing them with skills critical to our national security and economic prosperity. If you are planning on studying abroad in 2022/23 you will need to submit your scholarship application in March. Attend this workshop to get insight in the scholarship eligibiilty, application process and help to create a winning application essay. To be eligible for the Gilman Program, applicants must be receiving a Federal Pell Grant during the time of application (additonal requirements apply). Don't miss this one-time opportunity to get practical tips for the March application cycle.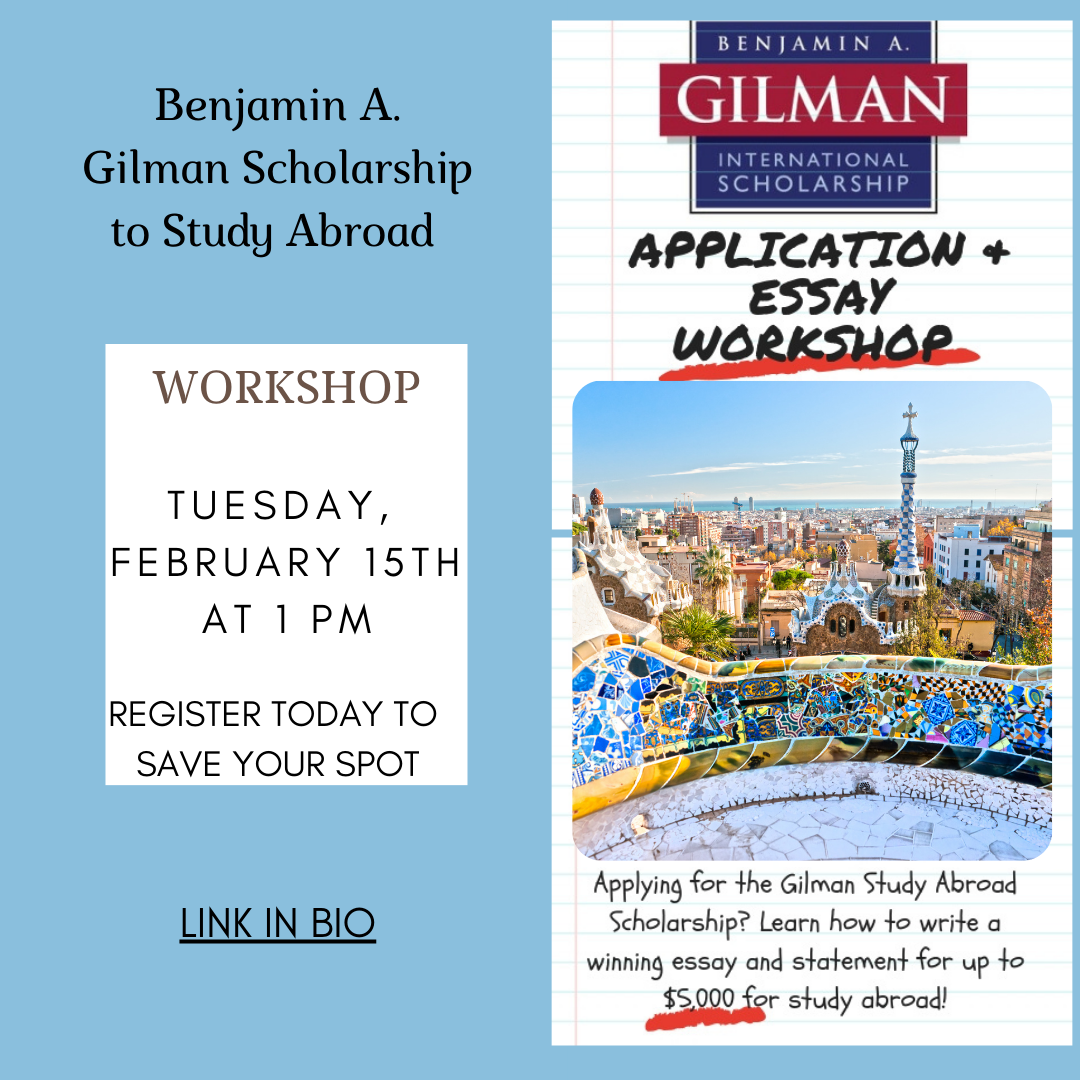 WHAT: Benjamin A. Gilman Application Workshop
WHEN?
WHERE?
Instagram Live Chats
@studyabroadsbcc
None scheduled at this time
Previous Instagram Live Chats