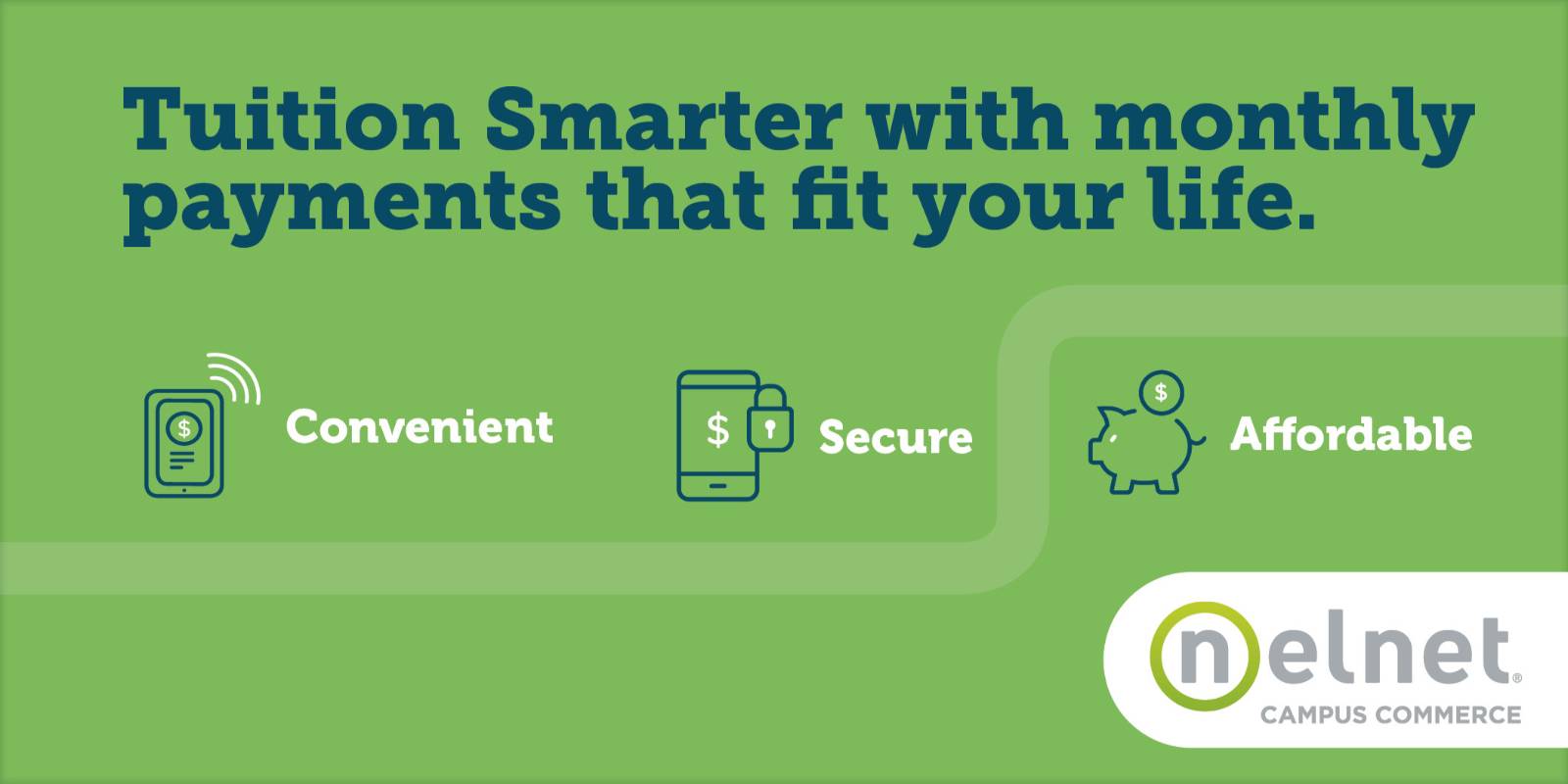 Payment Plans
Payment Plan Dates and Video Tutorial
Spring 2024 Payment Plans available on November 1, 2023.
Payment for previous term balances are due prior to Spring 2024 registration and enrollment of your Spring 2024 payment plan.

Students are encouraged to review the "Cost of Attendance" to learn the potential cost of your semester. This link lists both enrollment charges and ancillary costs, such as books and supplies, food, housing and sundries. of their total bills as well as explore all financial aid opportunities prior to enrolling in a payment plan.

Payment Plans available for upcoming semesters only during Fall and Spring semesters. No payment plans are available for Summer semesters or for past due balances.
Making college payments flexible! The monthly payment plan enables students or their authorized users to pay current Fall and Spring semester enrollment and mandatory fees in installment payments per semester. The plan offers great benefits by spreading your tuition payments over a period of time with interest-free monthly installments, while maintaining enrollment in your courses, as long as your payment plan schedule is current on all payments.
Important Considerations
Setup fee of $25.00 is non-refundable

Plan is interest-free.

One payment plan allowed per semester.

Enrollment limited to balances of $276 or greater.

Plans automatically rebalance based on changes to enrollment and financial aid disbursements/pullbacks.

Payments accepted by checking/savings account, credit card, and pre-paid debit cards.

Payments towards a Payment Plan Balance are ONLY accepted through the Nelnet Portal. No payments will be accepted at the Cashier's Office window.

Automatically withdraw from your saved payment method each month.

A failed attempt/returned payment (i.e. Insufficient funds), is a fee of $30.

Plan will be canceled following two attempts at making payment.

Failure to make payment may result in immediate drop of ALL classes for the semester for non-payment of fees, when instruction has not begun.

Log in to your Pipeline portal
Register for Classes
Go to

STUDENT

tab
Go to

STUDENT RESOURCES
Go to

STUDENT ACCOUNT
Select

SIGN UP / MANAGE MY PAYMENT PLAN
Follow the prompts on Nelnet Portal, making sure to complete all required fields are completed.
Review Terms and Conditions of the payment plan, at the end of the application. Read carefully and fully before submitting the application.
Check the box at the end to accept Terms & Conditions before submitted the online application.

You can also watch the Video Tutorial.

Participants may update their payment method at any time on their Pipeline portal. To have your new payment method used for your upcoming payment, the update must be made 48 hours prior to your next scheduled monthly payment. If a new payment method is not updated, remaining installments will automatically process against your old payment method.

Your student account balance may increase or decrease depending on the account activity, such as adding new classes, dropping classes, receiving a financial aid award, etc. Your payment plan has been designed to automatically recalculate and adjust your upcoming monthly payments based on your activity. When this happens, the student will receive an automated email specifying the new plan amount.

Students may designate an authorized user to access their payment plan. Authorized users will access the student account directly through the Nelnet Authorized User Access; students retain full control and privacy to their pipeline portal at all times. A student's course registration and other student account detail are not visible on the Nelnet site. Authorized users will only have access to total student plan balance and have the ability to update payment methods, and other details necessary for managing the payment plan.

To designate an authorized payer, select "Want to designate another payer?" in the upper right hand corner of your Nelnet access page. This can be added, updated or removed at any time while the payment plan is active. Notify the authorized payer and allow plenty of time for the payer to complete their setup process.

This plan is administered by Nelnet Business Solutions only. For any questions or concerns regarding the Nelnet portal, scheduled payments, setup fees, failed payment attempts, etc, please contact Nelnet directly at 1-800-609-8056. Santa Barbara City College personnel will not be able to give assistance for Nelnet portal questions or concerns.

If you have questions about your SBCC student account or charges on your SBCC account, please email cashiers@sbcc.edu.
Students who are requesting accommodations on the basis of disability, including an alternate format of these petitions, forms and Nelnet access, should make an appointment with a DSPS (Disability Services and Programs for Students) Specialist in the Student Services Building, Room 160 or call 805-730-4164 or email dsps@sbcc.edu.