Books for Black History Month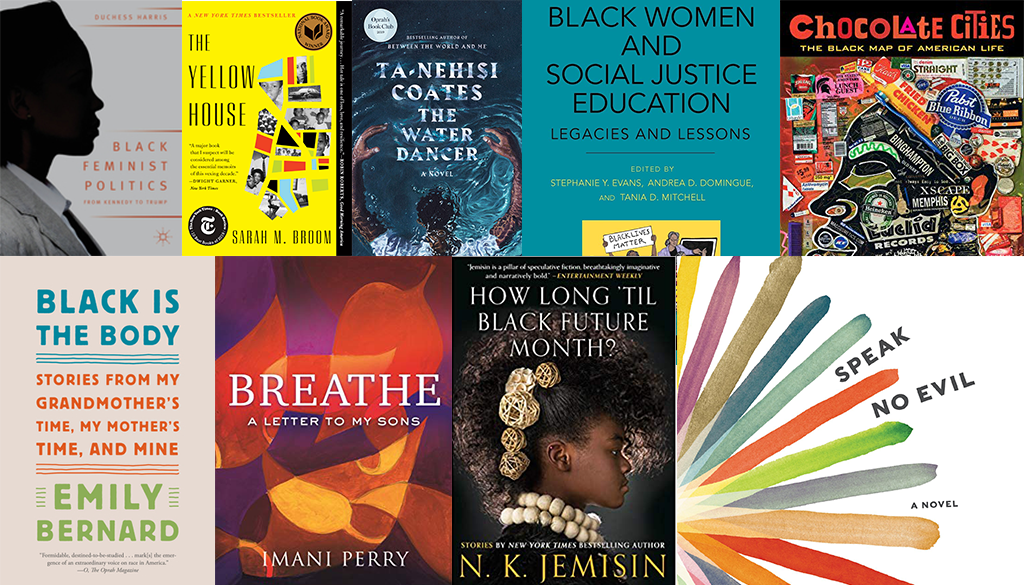 February 17, 2021
Books for Black History Month
A curated selection of books by Black and African American authors. The first section contains nonfiction books available electronically. The second section contains both nonfiction and fiction titles that you can request for pickup from the library. We hope you find something to meet your reading interests.
Ebooks
Nonfiction
Twelve years a slave : narrative of Solomon Northup, a citizen of New-York, kidnapped in Washington City in 1841, and rescued in 1853, from a cotton plantation near the Red River in Louisiana
Northup, Solomon, 1808-1863?, author.
2014
Belonging a culture of place
Hooks, Bell.
2008
Black Women and Social Justice Education : Legacies and Lessons
Evans, Stephanie Y., et al.
SUNY Press, 2019.
Black Movements : Performance and Cultural Politics
Colbert, Soyica Diggs.
Rutgers University Press, 2017.
Power to the People : the World of the Black Panthers
Shames, Stephen, and Bobby Seale.
Abrams, 2016.
Colored No More : Reinventing Black Womanhood in Washington, D.C.
Lindsey, Treva B.
University of Illinois Press, 2017.
Pioneering Cartoonists of Color
Jackson, Tim.
University Press of Mississippi, 2016.
Black Women in Sequence : Re-Inking Comics, Graphic Novels, and Anime
Whaley, Deborah Elizabeth.
University of Washington Press, 2016.
Milestone Documents in African American History
Nix, Echol Lee, and Keturah C. Nix.
Schlager Group, 2018.
African American History
Nix Jr., Echol, and Keturah C. Nix.
Grey House Publishing, 2017.
Print Books
Request any of these titles by clicking the link, choose Sign In and then Request. Pickup at the Luria Library during our Curbside Hours.
Nonfiction
A Pursued Justice : Black Preaching from the Great Migration to Civil Rights
Gilbert, Kenyatta R.
Baylor University Press, 2016.
We Are Your Sisters : Black Women in the Nineteenth Century
Sterling, Dorothy.
W.W. Norton, 1984.
What Is African American History?
Dagbovie, Pero Gaglo.
Polity Press, 2015.
The African American Experience : Black History and Culture through Speeches, Letters, Editorials, Poems, Songs, and Stories
Wright, Kai.
Black Dog & Leventhal Publishers, 2009.
Black Feminist Politics from Kennedy to Trump
Harris, Duchess.
Palgrave Macmillan, 2019.
Chocolate Cities : the Black Map of American Life
Hunter, Marcus Anthony, and Zandria F. Robinson.
University of California Press, 2018.
Soul of a Nation : Art in the Age of Black Power
Godfrey, Mark, et al.
Tate Publishing, 2017.
Adventures in ShondaLand : Identity Politics and the Power of Representation
Griffin, Rachel Alicia, and Michaela D. E. Meyer.
Rutgers University Press, 2018.
In search of our roots : how 19 extraordinary African Americans reclaimed their past
Gates, Henry Louis, Jr., author.
2009
Shaking the tree : a collection of new fiction and memoir by Black women
Danquah, Meri Nana-Ama.
©2003
The undiscovered Paul Robeson : an artist's journey, 1898-1939
Robeson, Paul, Jr., 1927-2014.
©2001-©2010
Malcolm X : a life of reinvention
Marable, Manning, 1950-2011.
2011
Dreams from my father : a story of race and inheritance
Obama, Barack.
©2004
Brown girl dreaming
Woodson, Jacqueline, author.
2014
The yellow house
Broom, Sarah M., author.
2019
Blue rage, black redemption : a memoir
Williams, Stanley Tookie, 1953-2005.
©2007
March : Book One
Lewis, John, 1940-2020.
Small Press Expo Collection; Aydin, Andrew, author.; Powell, Nate, illustrator.
2013
Black is the body : stories from my grandmother's time, my mother's time, and mine
Bernard, Emily, 1967- author.
2019
Yes, chef : a memoir
Samuelsson, Marcus.; Chambers, Veronica.
2013
The new Negro : the life of Alain Locke
Stewart, Jeffrey C., 1950- author.
2018
Breathe : a letter to my sons
Perry, Imani, 1972- author.
2019
Between the world and me
Coates, Ta-Nehisi, author.
2015
Dust tracks on a road
Hurston, Zora Neale, author.
2017
The origin of others
Morrison, Toni, author.; Coates, Ta-Nehisi, writer of foreword.
2017
The autobiography of Malcolm X
X, Malcolm, 1925-1965
1973
Fiction
How long 'til black future month?
Jemisin, N. K., author.
2018
The awkward black man : stories
Mosley, Walter, author.
2020
What we lose : a novel
Clemmons, Zinzi, author.
2017
Sing, unburied, sing : a novel
Ward, Jesmyn, author.
2017
Heads of the colored people : stories
Thompson-Spires, Nafissa, author.
2018
If Beale Street could talk : a novel
Baldwin, James, 1924-1987, author.
2018
The hate u give
Thomas, Angie, author.
2017
Speak no evil : a novel
Iweala, Uzodinma author.
2018
The water dancer : a novel
Coates, Ta-Nehisi, author.
2019
Homegoing
Gyasi, Yaa, author.
2016
The mothers : a novel
Bennett, Brit, author.
2016
Hitting a straight lick with a crooked stick : stories from the Harlem Renaissance
Hurston, Zora Neale, author.; West, Margaret Genevieve, editor, writer of introduction.; Jones, Tayari, writer of foreword.; Hurston, Zora Neale.
2020
Dark matter : reading the bones
Thomas, Sheree R.
©2004
Childrens Books
The undefeated
Alexander, Kwame, author.; Nelson, Kadir, illustrator.
2019
Freedom in Congo Square
Weatherford, Carole Boston, 1956- author.; Little Bee Books, publisher.; Christie, R. Gregory, 1971- illustrator.; Evans, Freddi Williams, writer of foreword.
2016
Sulwe
Nyong'o, Lupita, author.; Harrison, Vashti, illustrator.
2019
Radiant child : the story of young artist Jean-Michel Basquiat
Steptoe, Javaka, 1971- author, illustrator.; Little, Brown and Company, publisher.
2016
Double bass blues
Loney, Andrea J., author.; Gutierrez, Rudy, illustrator.
2019
Parker looks up : an extraordinary moment
Curry, Parker, author.; Curry, Jessica, author.; Jackson, Bea, 1986- artist.
2019